Chances are, you've been thinking about what happens after you graduate from dental school for some time now. While you are still considering your options, the following are some critical points to consider in your decision-making process. 
What's Next After Dental School?
As a dental school graduate, you might be wondering what you do after dental school. You have more options for your career than you might think. Determining which one is right for you starts with being aware of what's possible.
First, you should decide what type of dentistry you want to practice. Your options include:
Going into general practice: If you are ready to start your practice, you can get your state license and begin your career seeing patients as a dentist right now. 
Specializing:  If you are interested in one of the 12 specialty areas of dentistry recognized by the ADA, you can choose to specialize in one of the advanced dental education programs. [1]
Once you decide whether you want to specialize or go into general dentistry, you have different paths. For specialty, you will choose one of the areas, (dental anesthesiology, dental public health, endodontics, oral and maxillofacial pathology, oral and maxillofacial radiology, oral and maxillofacial surgery, oral medicine, orofacial pain, orthodontics and dentofacial orthopedics, pediatric dentistry, periodontics, prosthodontics) apply for a program or residency, and weigh your options from your acceptances. 
On the other hand, if you decide to go into general dentistry, you will need to get your license. Every state dental board sets the licensure requirements for their practicing dentists. However, the essential standards are the same for all dental licensure applicants and include: [2]
Obtaining a DDS or DMD degree from a university-based dental education program accredited by the Commission on Dental Accreditation (CODA)
Passing the Integrated National Board Dental Examination (INBDE), which was launched to oversee changes in educational curricula in 2020. 
Satisfying the requirements for a clinical examination administered in regional testing agencies. 
Once you have your license to practice in the state, you have a few options to choose from as a path forward in your dental career. These include: [3]
Opening a Private Practice: If funding is available, you can purchase or open one and build a private practice. The positives of this option are that you can be your own boss, enjoy higher earning potential, and control all the details. The risks are that it is expensive, poses a greater financial risk, requires a lot of long hours with less flexibility, and requires building your patient base (i.e., marketing) yourself. 
Joining an Established Practice: Some dentists choose to join a private practice instead of opening one themselves. This option is popular because it does not require as much risk or marketing, gives the dentist a steady paycheck, and provides an opportunity to gain experience right away with an established patient base. However, there are not as many opportunities for growth, less control for you regarding staffing and office style, and chances are high that you will not be using the most state-of-the-art equipment or techniques. 
Working in a Supported Practice: Many recent graduates from dental school join a practice supported by a dental support organization (DSO) as an associate dentist. Like entering an established practice, first-year dentists in a DSO can get the experience right away and earn a steady paycheck and build up a practice of willing patients, all without needing to take on financial risk. These positions also provide excellent benefit packages and flexibility for scheduling. In addition, DSO practices often have state-of-the-art equipment available for dentists. Joining a supported practice presents the unique opportunity for a dentist to focus solely on dentistry. By contrast, starting a new practice requires a split focus on dentistry and running a small business. In addition, associate dentists working in a supported practice may also have the opportunity to open their own supported practice after a few years. 
However, some recent graduates choose neither a specialty nor to go into the private sector to practice as general dentists. In these cases, a dentist might choose to go into academic dentistry to teach in a dental program or as a public healthcare policy expert who influences dental care in a geographic area. Some dentists also seek federal employment as a dentist working for the government or in a Federally Qualified Health Center, which serves low-income populations and often helps earn loan repayment for education debt. A few recent grads don't do any of these things and instead take time off to think about their options and consider their long-term goals. [4]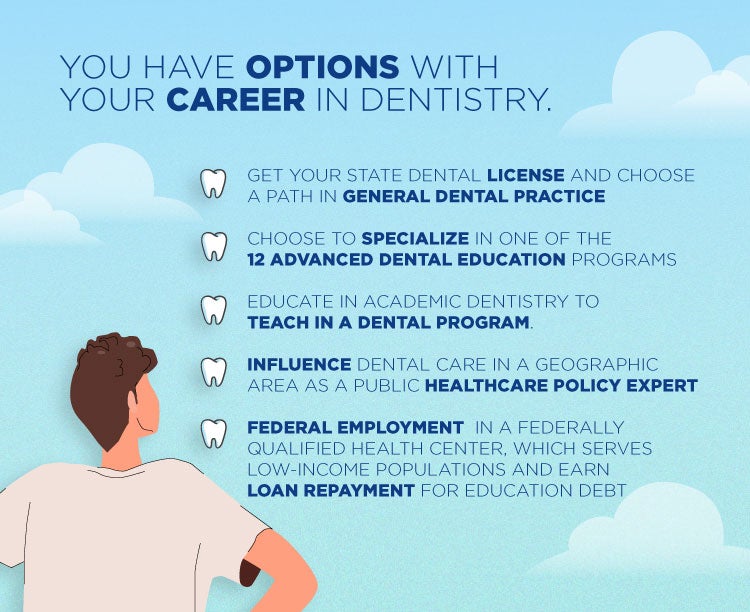 Finding a Job After Dental School
You might wonder if finding a job after dental school is hard. The answer is that it depends on your expectations and what you want to do with your degree. 
Dental is a field that has a high demand. Per the US Bureau of Labor and Statistics, dentistry will grow by six percent between 2021 and 2031, adding 8,400 more jobs in that same period. [5] Therefore, there are many opportunities out there for dentists to find a job. 
Plus, US News and World Report put dentistry in the top 10 jobs for 2022. In addition to making the top 10, US News and World Report also note that dentistry has an unemployment rate of .5 percent and is 11th in best-paying jobs. [6] The ADA reports that the rankings were determined by identifying the jobs with a tremendous hiring demand and then scored on different components, which included 10-year growth volume and percentage, median salary, employment rate, prospects, stress related to the profession, and work-life balance. [7]
There are jobs out there with a lot of great perks, but you still need to find one of them. There are a few things you can do to improve your job search experience, which include: [8]
Using professional organizations like the ADA Career Center. If you choose to go into general dentistry, you can also use The Academy of General Dentistry. 
Being open to moving. There are many opportunities for dentists in less populated areas, so if you are flexible and can relocate or commute, you might find more jobs available to you.
Leveraging your network. From dental school teachers to local dentists to other dental professionals you meet at conferences or other professional events, you can use connections to learn about opportunities. Other contacts could be dental supply salespeople or local associations. 
Meeting people in person. If you can walk your resume into an office, it helps to meet people in person. This allows you to make more of an impression and might help you get an interview.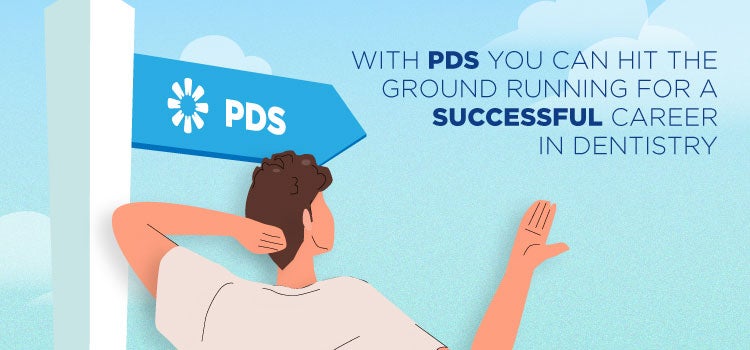 What Does PDS Offer Newly Graduating Dental Students?
At PDS, we are always looking for new associate dentists for our supported practices. Our onboarding process helps with your transition to working in a practice. Plus, with coaching and mentoring by the owner dentist, you can gain experience while taking advantage of our complementary training opportunities and working with the latest proven dental technology. 
You can also begin to build a practice within the practice. For example, many of our associate dentists become owner dentists over time. Plus, we have supported practices nationwide, so there are opportunities to live across the country. 
If you are a dentist or want to become one in a PDS-supported practice, we'd like to talk to you about joining our team.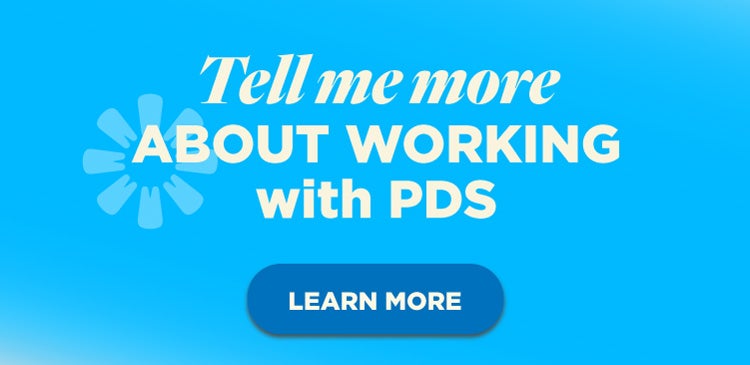 Sources:
[1] Advanced Dental Education Programs (2023). Available at: https://www.adea.org/GoDental/Career_Options/Advanced_Dental_Education_Programs.aspx (Accessed: 10 January 2023).
[2] Licensure (2023). Available at: https://www.ada.org/resources/licensure (Accessed: 9 January 2023).
[3] What Are the Practice Options for New Dentists (undated)? Available at: https://www.sswhitedental.com/blog/what-are-the-practice-options-for-new-dentists/ (Accessed: 10 January 2023)
[4] Ali Oromchian, E. (2023) You've Just Graduated Dental School, Now What?, Dmcounsel.com. Available at: https://www.dmcounsel.com/blog/you-have-just-graduated-dental-school-now-what (Accessed: 9 January 2023).
[5] Dentists. Bls.gov. available at: https://www.bls.gov/ooh/healthcare/dentists.htm 
[6] What Is a Dentist? (2023) money.usnews.com, available at: https://money.usnews.com/careers/best-jobs/dentist
[7] Dentistry rises to the top 10 in the best jobs list (2023). Available at: https://www.ada.org/publications/ada-news/2023/january/dentistry-rises-to-top-10-in-best-jobs-list (Accessed: 12 January 2023).
[8] Finding a Job When Coming Out of Dental School - Oral Health Group (2023). Available at: https://www.oralhealthgroup.com/blogs/finding-job-coming-dental-school/ (Accessed: 9 January 2023).
The information provided by Pacific Dental Services in this blog is intended to educate readers about oral health and related topics. However, it is not a substitute for professional advice or career guidance from a qualified dental professional or educator. It is important to seek the help of experts for any concerns related to oral health or career planning.