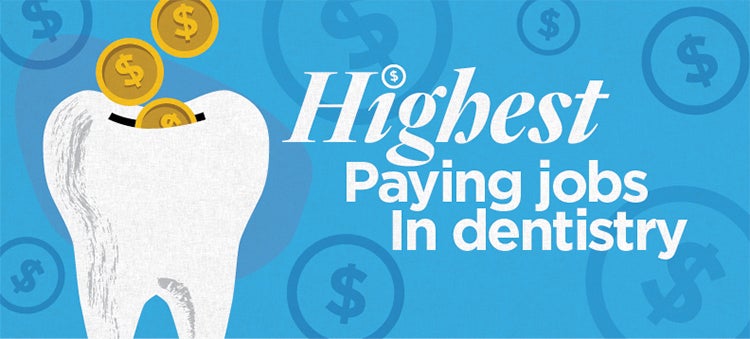 Dentistry is a high-paying profession. However, some dentists make more than others. 
One difference in earnings relates to whether they are a general dentist or a specialist. Specialists usually earn more than general dentists. 
A general dentist is the one most patients see every six months. They handle the fundamentals of oral healthcare, oral hygiene, minor surgical procedures, and some cosmetic and restorative treatments for their patients. Some can even deliver clear aligner orthodontic treatment. In other words, they handle a little bit of everything for their patients. 
A specialist is different than a general dentist. Dental specialists have additional education and training in an area of focus. The highest-paying jobs in dentistry are dental specialists. The American Dental Association (ADA) recognizes twelve dental specialties, which include:
Dental anesthesiology
Dental public health
Endodontics
Oral and maxillofacial pathology
Oral and maxillofacial radiology
Oral and maxillofacial surgery
Oral medicine
Orofacial pain
Orthodontics and dentofacial orthopedics
Pediatric Dentistry
Periodontics
Prosthodontics
In addition to their area of focus, other factors affect the average salary of a dentist. Some variables are the type of patients they serve, the insurance companies they work with (or don't), how much they work, and whether the dentists own their practice, among others.
Dentists' income is also affected by the area where they practice. Some geographical areas make more than others—and the ones that pay the most might surprise you. 

Highest Paying Location
Usually, the highest-paid professionals live in large metropolitan areas on one of the coasts. That is somewhat true in dentistry, too. For example, a dentist in Los Angeles is likely to make more than one in Kansas City, MO. 
However, the highest-paying dental jobs do not follow this pattern entirely. For example, some of the best paying cities for the top dental specialties include Manchester, NH, Honolulu, HI, Chelsea, MA, Las Vegas, NV, Iowa City, IA, and Norwalk, CT.[1] Except Chelsea, which is next to Boston, most of these cities are not the size of the traditional "big cities" one thinks of, like New York or Los Angeles.
Average Salary of a Dentist
So you may be wondering how much does a dentist make? When you factor in all the details that affect income, you can come up with the average salary of a dentist for a clinician in the US. A general dentist averages a little over $163,000 or around $78 an hour, per the US Bureau of Labor Statistics (BLS).
What a general dentist makes annually varies depending upon the state where the general dentist practices. For example, per the BLS in May 2021, a general dentist in California averages just under $166,000, but a general dentist in Texas averages $150,000. Other state averages include Florida, at $164,000; New York, at $171,000; and Virginia, at $163,000. 
How Much Do Specialty Dentists Make?
Dental specialists make significantly more than general dentists, regardless of the state they choose to practice. Per Student Loan Planner®, specialists make from $200,000 to $324,000. 
The only exception is the Dental Public Health specialty, which makes slightly less than a general dentist at $149,000. However, these specialists often benefit from debt-forgiveness programs, which will pay off student loans. Student loan payoff is a substantial perk. Nerd Wallet estimates that the average dental school debt for a dentist in the class of 2020 was $304,824.[2]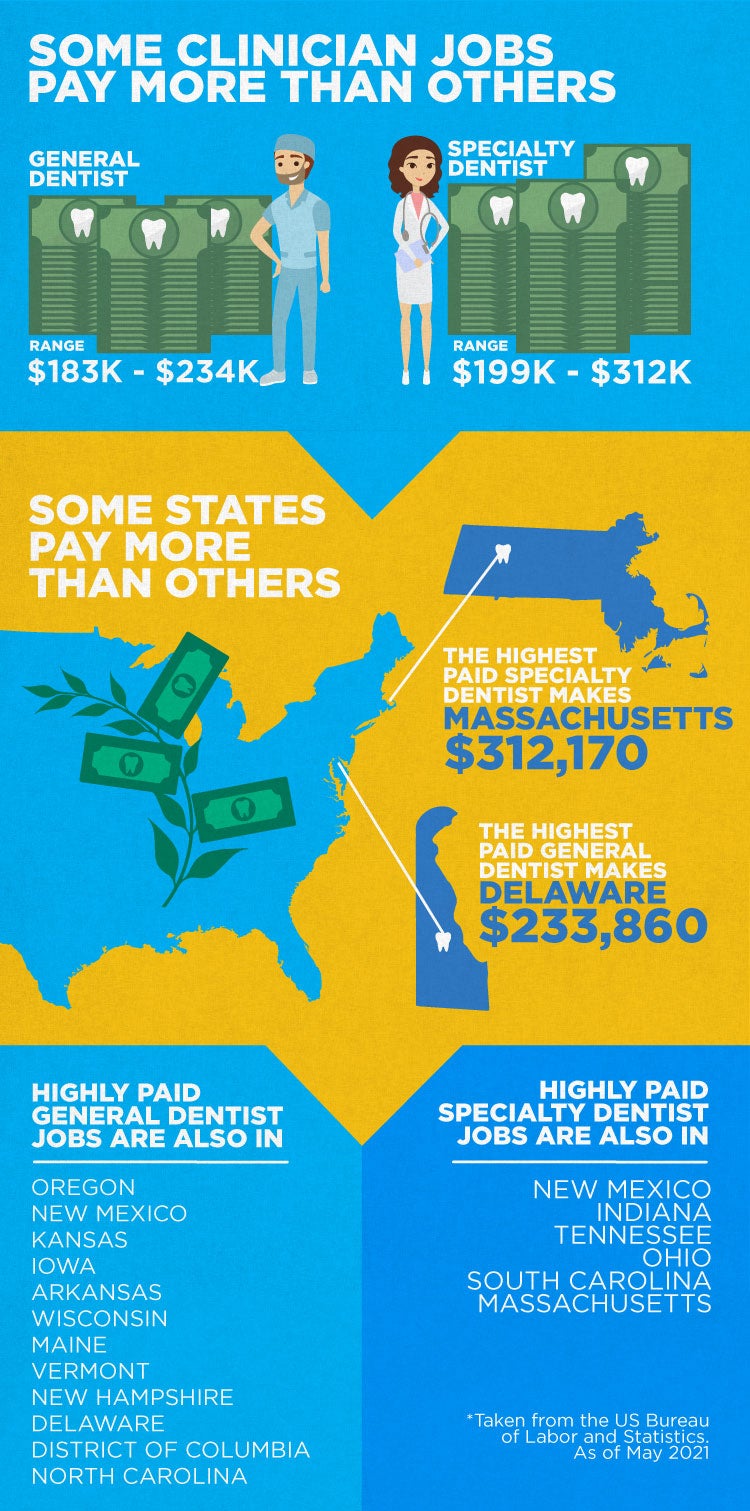 What is the Highest Paying Job in Dentistry?
The highest paying job in dentistry is the one that requires the most school and takes the most risk: oral and maxillofacial surgeons in private practice. The average annual income for these specialists is $323,700.[3]
These specialists are surgeons. Their surgery solves advanced issues in the oral facial anatomy, like a cleft palate, oral cancer, or injury. In addition to dental school after their undergraduate degree, these specialists have up to six years of additional training for their dental degrees, including a residency. Some of these specialists even get an MD in addition to the DDS or DMD degree. 
Per ZipRecruiter, the following three best-paying jobs in dentistry were:[4]
Endodontists with a salary range of $248,000 to $390,000 annually.

Orthodontists with a salary range of $260,000 to $373,000 annually.
Prosthodontist with a salary range of $185,000 to $360,000 annually.

Best Paying States for the Dental Industry?
Some states pay more than others. The BLS has the highest annual average salary for general dentists by state (as of May 2021), with a range of $183,000 to $234,000 in Oregon, New Mexico, Kansas, Iowa, Arkansas, Wisconsin, Maine, Vermont, New Hampshire, Delaware, the District of Columbia, and North Carolina. Of those, Delaware was the highest at $233,860, followed by New Hampshire at $224,140. 
For all specialists, the states with the highest-paying dental jobs were different than the general dentist states. The BLS shows the highest paid dental specialty jobs ranging from $199,000 to $312,000, were in New Mexico, Indiana, Tennessee, Ohio, South Carolina, and Massachusetts. The highest dental specialties salaries were in Massachusetts with $312,170, followed by Indiana at $221,230.
Ready to be the highest-paid dentist or highest-paid dental specialty in your town? PDS has many openings for dentists and specialists all across the country. Click one of the links below to find out more.
Looking for a dentist job? Find out about dentist jobs with PDS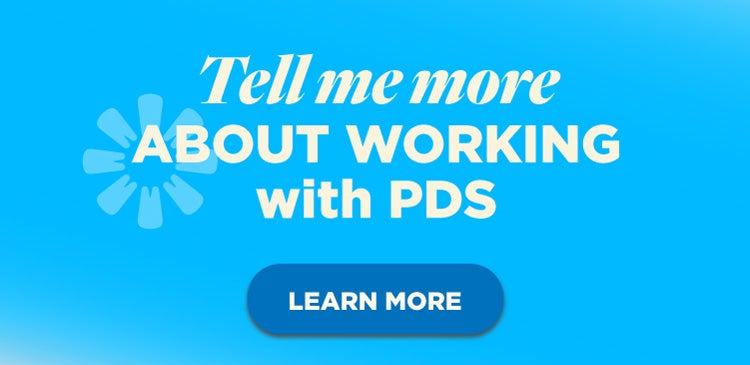 Sources:
[1] Urquiaga P. 6 Highest Paying Dental Specialty Jobs - masc. mascmedical.com. https://mascmedical.com/6-highest-paying-dental-specialty-jobs/. Published 2021. Accessed June 16, 2022.
[2] Clark C. What Is the Average Dental School Debt? - NerdWallet. NerdWallet.com. https://www.nerdwallet.com/article/loans/student-loans/average-dental-school-debt. Published 2022. Accessed June 16, 2022.
[3]  Marquit M. 10 Highest-Paid Dental Specialty Careers for Aspiring Dentists - Student Loan Planner. studentloanplanner.com. https://www.studentloanplanner.com/highest-paid-dental-specialty/. Published 2022. Accessed June 16, 2022.
[4] 24 of the Highest Paying Dentist Jobs in 2022. ziprecruiter.com. https://www.ziprecruiter.com/g/Highest-Paying-Dentist-Jobs. Accessed June 16, 2022.
The information provided by Pacific Dental Services in this blog is intended to educate readers about oral health and related topics. However, it is not a substitute for professional advice or career guidance from a qualified dental professional or educator. It is important to seek the help of experts for any concerns related to oral health or career planning.