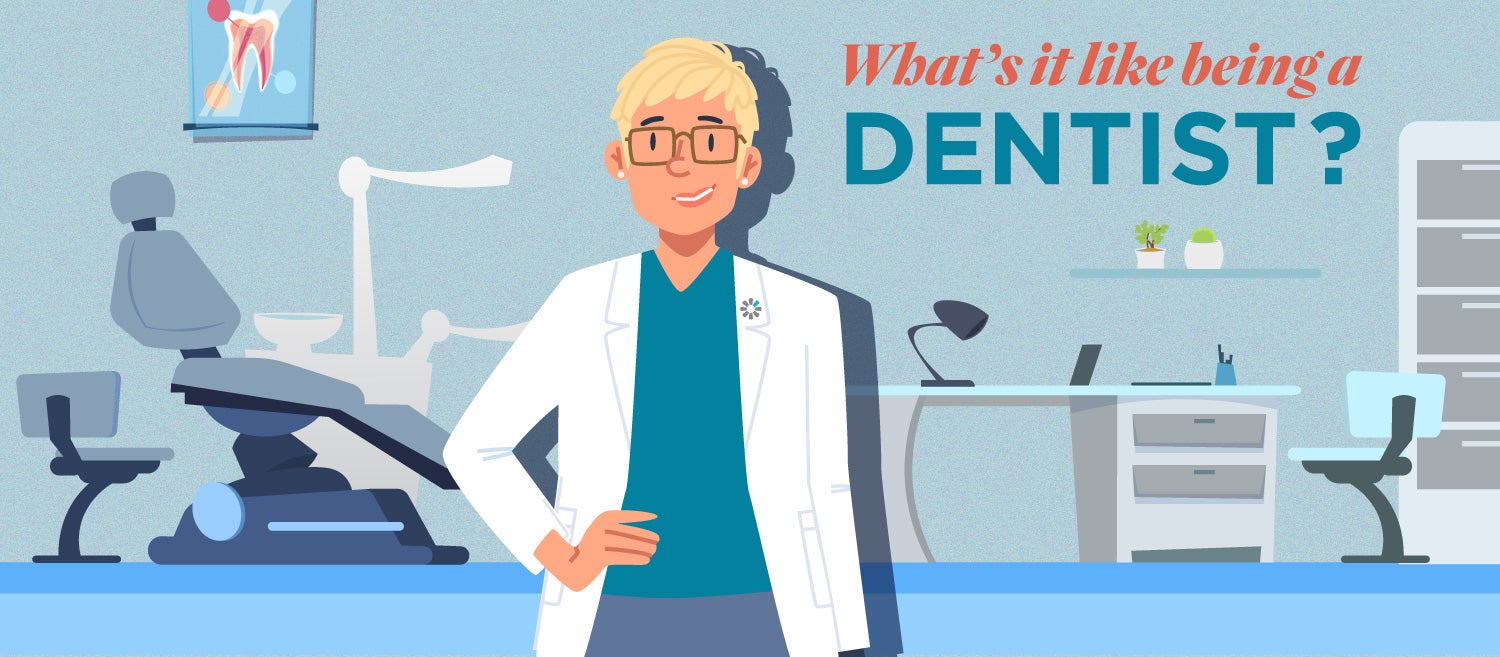 Dentists are oral healthcare providers that treat gum disease, tooth decay, and other pathology of the oral cavity. Dentists also improve a patient's smile by whitening or correcting their bite with orthodontic treatment. [1]
Becoming a dentist takes a long time. There are at least four years of dental school after undergrad and more if a dentist wants to specialize. After graduation, dentists have the state license exam to study for and pass, ​​​​followed by setting up a dental practice or finding a job in an existing practice.
Dentistry is a happy career for many, but it isn't without its challenges. And in some cases, what is great about being a dentist is also what makes being a dentist hard. Let's look at why people choose dentistry as a career, how to become a dentist, and what a typical day for a dentist is like, including the challenges and benefits of this dynamic career.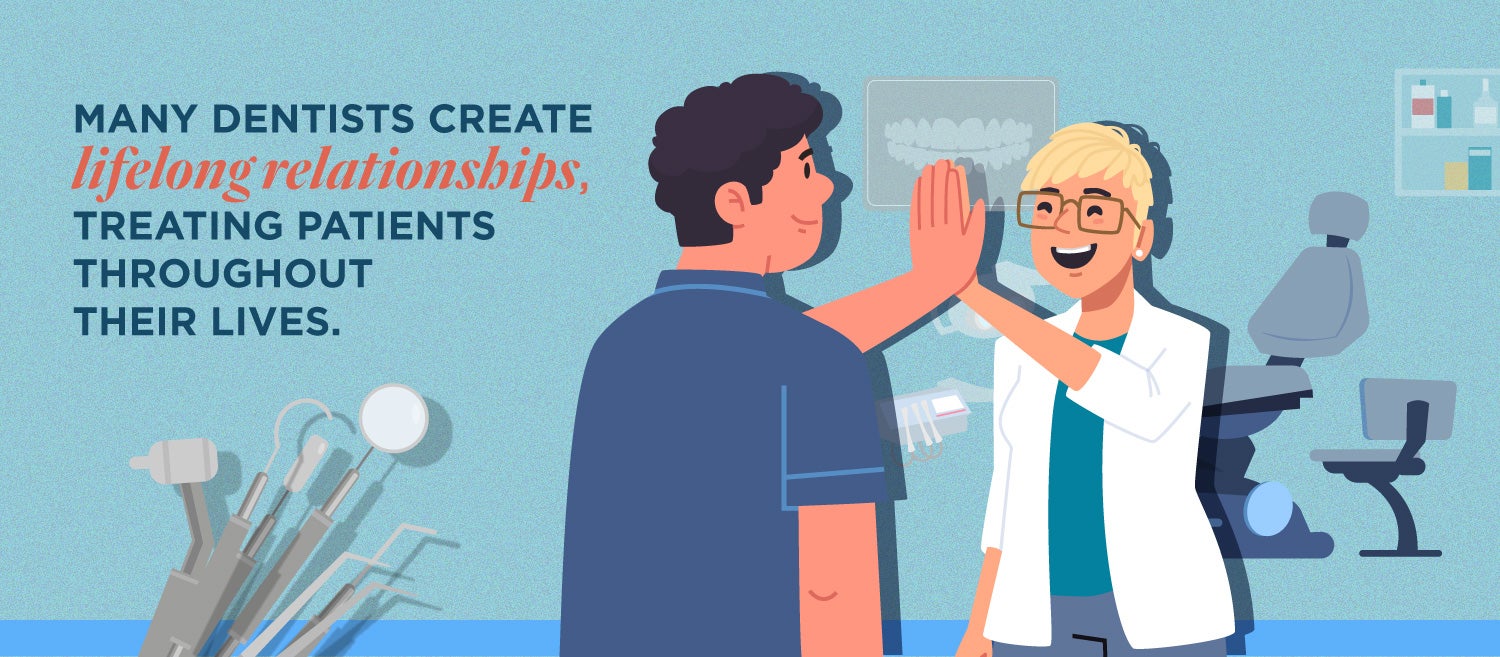 Why Do People Become Dentists?
Most people that become dentists do so because they want to help people. Whether providing a root canal treatment, filling a cavity to relieve a patient's pain, or delivering a denture or prosthetic that can help people eat the foods they haven't been able to for some time, dentistry can improve people's quality of life. As one dentist in the UK writes in the British Dental Journal, "I feel that in most encounters we have with patients, we are helping them to some extent. Even if it's simply to give them a clean bill of health at a routine dental visit." [2]
In addition to providing relief for pain and a path to better oral health for people, dentists enjoy many other things about their jobs. Working with people is often a reason that dentists say they love their jobs. [3] Many dentists create lifelong relationships, treating patients throughout their lives.
Dentists also appreciate the benefits of the profession itself regarding the work environment and quality of life. Many dentists like the freedom that comes with running a practice. Also, maintaining a work-life balance is easier to manage as a dentist than in many other professions. [4]
Of course, the pay is motivating too. Dentists make a high annual salary and live comfortable lives.
How Much Do Dentists Make?
How much you earn as a dentist depends on many factors. For example, your pay is influenced by where you live, what type of dentistry you practice, and how many hours you work. Whether you work for someone or own your practice will also affect the money you make too.
​​​​​US Bureau of Labor and Statistics provides the following averages as of September 2022 for a working dentist to expect for their pay: [5]
General dentists: $160,370
Governmental dentists: $182,330
Oral and maxillofacial surgeons: $208,000 or more
Orthodontists: $208,000 or more
Other dental specialists: $175,160
Where you live affects what you make as well. Consider the following estimated salaries for the states where dentists make the most: [6]
Delaware $233,860
New Hampshire $225,140
Oregon $207,370
Rhode Island $206,370
Connecticut: $197,910
And the states where dentists make the least: [7]
Illinois $136,930
Kentucky $136,480
Wyoming $134,570
South Carolina $132,830
Idaho $124,750
How Do You Become a Dentist?
Your journey to become a dentist starts as early as high school. It is a good idea to take courses in biology, chemistry, and math to begin laying a foundation for your future educational pursuits. [8] 
The first requirement for becoming a dentist is to get a bachelor's degree. The degree can be in any field, but based on the next part of the education timeline, it's a good idea to get it in biology or related science. [9]  Other helpful four-year degrees could be in chemistry, anatomy, or physics. [10]
Next, you study for and take the Dental Admission Test (DAT). This test gives admissions teams at dental schools a test score that they can use with other factors like your undergraduate GPA, your performance in interviews, and the content of your recommendations to decide if they want to offer you one of their spots. [11]
If you enter dental school, you will earn your DDS or DMD degree over the next four years. The first two years are typically coursework and labs. The second two are clinical work under the supervision of your instruction team. [12]
Once you earn your DDS or DMD degree, you need to decide whether to specialize in a specific part of dentistry or to practice general dentistry. If you specialize, you will continue your education with a residency program that varies in length but is usually two years. If you want to practice general dentistry, you will get your license to practice in the state and decide if you're going to open a private practice, join an established practice as an associate, or go to work for a practice supported by a dental service organization (DSO) as an associate dentist. [13]
What Does a Dentist Do?
A dentist specializes in taking care of a patient's oral health. This area includes the care for prevention and pathologies of the teeth, gums, and oral cavity. [14]
In addition, dentists also manipulate the teeth and gums with procedures, from orthodontics to gum grafts. In some restorative treatments, dentists replace biological structures with artificial prosthetics, such as placing implants or providing dentures. Dentists also whiten teeth and perform esthetic treatments, meaning dentists can improve how teeth look. Some specialty dentists, called oral surgeons, extend their work into treating problems with the jaw or reconstructing the oral facial structure of a patient after trauma. [15]
One of the most critical jobs a dentist does, along with their clinical team and support staff, is educating patients about oral disease prevention. Teaching patients how to maintain the health of their mouths is critical to preventing pathologies like tooth decay and gum disease, and the expensive restorative treatments that result from leaving them unchecked and untreated. [16]
What Is a Typical Day in the Life of a Dentist Like?
A typical day at the dental practice for a dentist follows a similar pattern. Usually, it starts by reviewing the patient files for the first few of the day's procedures. Reviewing files reminds the dentist about the patient's case and whether there is a problematic procedure scheduled that might need additional preparation and consideration. [17]
Once patients arrive, the staff begins the patient intake process. The dental assistant or hygienist will alert the dentist when the patient is ready to be seen for an exam or procedure. After one last look at the file, the dentist will sterilize their hands and put on their personal protective equipment to conduct the procedure.[18] 
How many patients a dentist might see at the dental practice will range from day to day. It might be three to four patients on a light day and eight to 10 on a heavy day. The number of scheduled procedures depends on the difficulty of the treatment and the time needed to prepare for each appointment. In addition, the dentist might need to schedule breaks. [19]
Dentists record the current day's activities and prepare for the next one. For example, the dentist spends the last couple of hours filing paperwork and updating patient records, then pulling and reviewing files for the next day. Preparation is an essential part of a dentist's success. Being prepared for the day's cases reduces mistakes that can lead to poor patient experiences and outcomes as well as detrimental effects on the dentist's career. [20]
What Are the Challenges of Being a Dentist?
Dentistry is a personally and financially rewarding career built around helping people with their oral health. However, it does have its challenges, which can include the following:
Running your own business: Many dentists are ready to help patients with oral health. However, few feel prepared for the rigors of running their own business, nor do they realize the discipline required when one is self-employed. From feeling overwhelmed by the business side of a dental practice and paying the bills to working long hours to ensure that they don't drop the ball with a patient, many dentists get in over their heads. [21]
Patients will be patients: Dentists know how essential it is to maintain oral health and work daily to educate patients about it. However, after seeing patients hang onto bad habits over the years, a dentist can feel discouraged. [22]
Learning when to refer: New dentists might not yet understand what they do well and what might be in the patient's best interest to send to a specialist. When a dentist makes the wrong decision or a mistake, patients will complain — sometimes to the point of filing a lawsuit. [23]
Managing student loan debt: The average dentist has student loan debt of $293,900 when they graduate. [24] One of the most significant challenges for new dentists is managing their student loans for dental school while saving up for private practice and pursuing their personal financial goals. [25]
Maintaining health: Being a dentist is not only intellectually challenging, but it is also physically taxing. Many dentists experience health issues with their backs, shoulders, and knees from extended hours working in unnatural postures (i.e., bent over patients). Also, some dentists struggle with managing stress from the many demands of their careers. In addition, the nature of patient interaction means they are also exposed to contagious diseases, like COVID-19, HIV infections, hepatitis, and tuberculosis, among others. [26]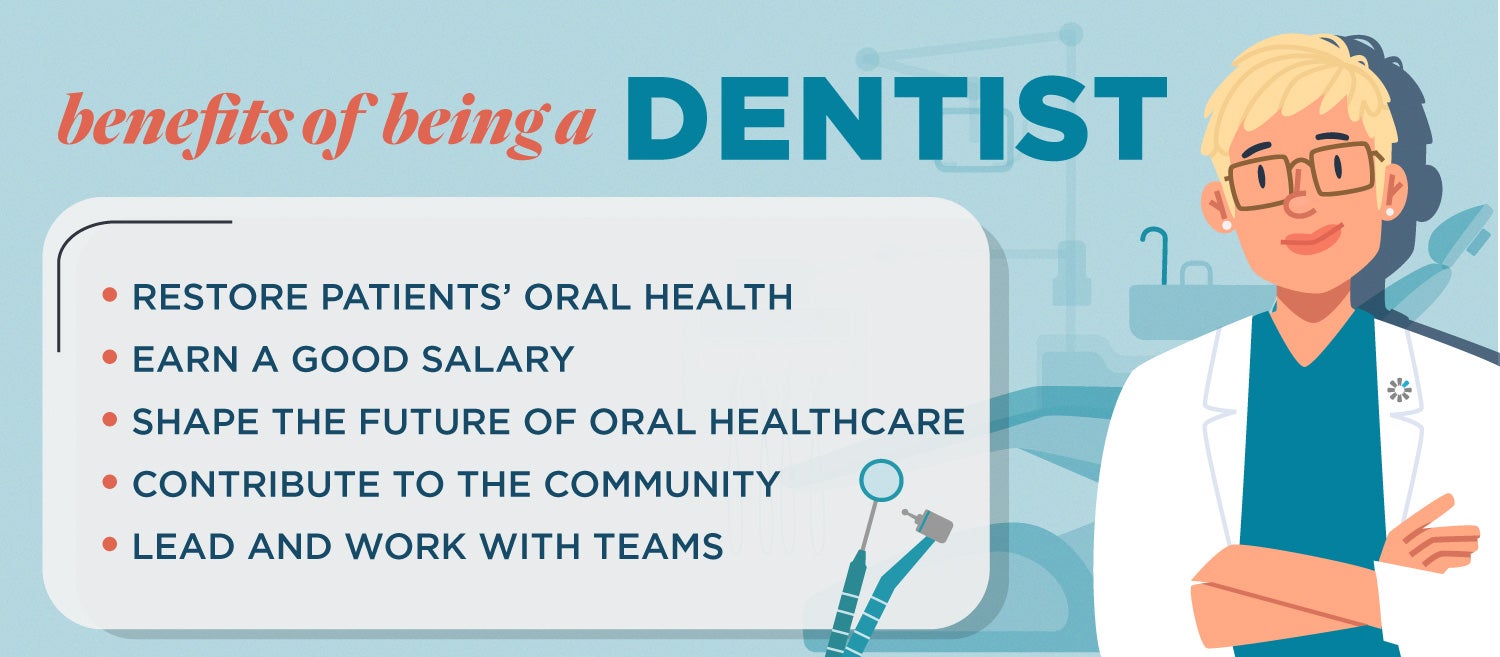 What Are the Benefits of Being a Dentist?
Of course, there are excellent things about being a dentist, too. Moreover, we dentists are in demand. Per the American Dental Education Association (ADEA), the need for new dentists is increasing due to population growth, healthcare law changes, and retiring dentists. [27]
The ADEA also points out that dentistry has many rewarding benefits. A career in dental allows dentists to:
Restore patients' oral health and prevent future problems with treatments

Earn good salaries, which also provides financial security

Enjoy independence in their career and flexible lifestyles
Choose from career options that present themselves, like academia or research positions, among others

Shape the future of oral healthcare with their insight and direction 

Contribute to communities and sponsor community growth and development

Exercise creativity in how they practice and deliver care day to day

Lead and work with teams, collaborating to deliver excellence in oral healthcare
Provide care to underserved populations [28]
So, that's a little of what it's like to be a dentist. As you can see, being a dentist requires a lot of education and dedication. However, you also benefit from all your hard work with the financial rewards of having a professional career in healthcare. Plus, once you practice, you improve people's oral health and help patients live better lives than they would without dental care, which is a pretty great way to earn a living.
If you are a dentist or want to become one in a PDS-supported practice, we'd like to talk to you about joining our team.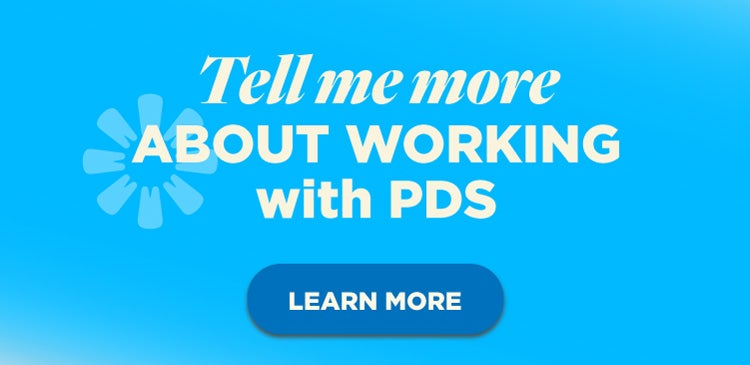 Sources:
 [1, 2, 3] Ofori-Attah, S. Dentistry, and why it is a great career. Br Dent J 223, 81–84 (2017). https://doi.org/10.1038/sj.bdj.2017.617
 [4] Snider, S. Discover What It's Like to Work as an Orthodontist. Money.usnews.com.(2016) Available at: https://money.usnews.com/money/careers/articles/2016-01-26/discover-what-its-like-to-work-as-a-dentist-or-orthodontist. (Accessed 13 January 2023).
[5] Bureau of Labor Statistics, U.S. Department of Labor, Occupational Outlook Handbook, Dentists, at https://www.bls.gov/ooh/healthcare/dentists.htm (visited March 3, 2023).
[6, 7] Best & Worst States for Dentists | Berxi™ (2023). Available at: https://www.berxi.com/resources/articles/best-states-for-dentists/  (Accessed: 16 January 2023).
[8, 9] Dentists: How to Become a Dentist. Bls.gov. Available at: HTTPs (Accessed 16 January 2023). 
[10] Dentist Careers | The Princeton Review- (2023). Available at: https://www.princetonreview.com/careers/50/dentist (Accessed: 12 January 2023).
[11, 12] Dentists: How to Become a Dentist. Bls.gov. Available at:https://www.bls.gov/ooh/healthcare/dentists.htm#tab-4 (Accessed 16 January 2023). 
[13, 14, 15, 16] Dentist Careers | The Princeton Review (2023). Available at: https://www.princetonreview.com/careers/50/dentist (Accessed: 12 January 2023).
[17, 18, 19, 20] The Day-to-Day Life of a Dentist - From Taking Care of Your Teeth to Taking Care of Your Practice - Dentaltown (2023). Available at: https://www.dentaltown.com/blog/post/11111/the-day-to-day-life-of-a-dentist (Accessed: 12 January 2023).
[21, 22] Pros and Cons of Being a Dentist - The American Orthodontic Society (2021). Available at: https://orthodontics.com/pros-and-cons-of-being-a-dentist/ (Accessed: 12 January 2023).
[23] 5 Challenges Dentists May Face During Their Career - Oral Health Group (2023). Available at: https://www.oralhealthgroup.com/blogs/5-challenges-dentists-may-face-during-their-career/ (Accessed: 12 January 2023).
[24] Average Dental School Debt [2023]: Student Loan Statistics (2023). Available at: https://educationdata.org/average-dental-school-debt (Accessed: 16 January 2023).
[25, 26] What Is The Biggest Challenge for Dentists Today (2023 Updated)? (2021). Available at: https://www.ownyourownfuture.com/what-is-the-biggest-challenge-for-dentists/ (Accessed: 12 January 2023).
[27, 28] Why be a dentist? (2023). Available at: https://www.adea.org/godental/dentistry_101/why_be_a_dentist_.aspx (Accessed: 23 May 2023).
The information provided by Pacific Dental Services in this blog is intended to educate readers about oral health and related topics. However, it is not a substitute for professional advice or career guidance from a qualified dental professional or educator. It is important to seek the help of experts for any concerns related to oral health or career planning.