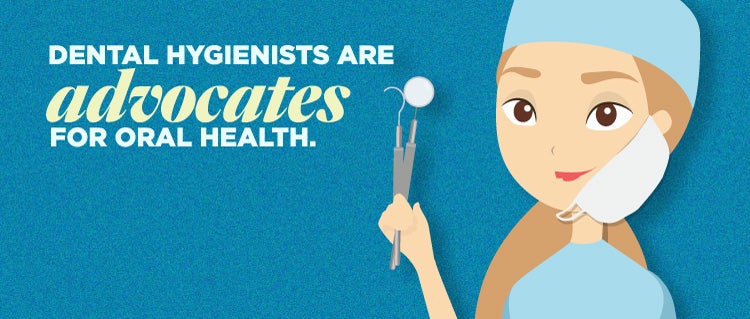 If asked, "What is a dental hygienist?" many patients might say, "The one who cleans my teeth." However, dental hygiene professionals help patients much more than that, playing a critical role in patients' oral health. 
So, what does a dental hygienist do? Dental hygienists are oral disease prevention specialists and advocates for oral health in a dental office, making them an essential part of the clinical dental team.
Let's look at the typical education requirements of a dental hygiene program, the daily duties of a dental hygienist, and how the dental hygiene role differs from the other team members involved in patient care. Let's also explore the average hygienist salary and general job satisfaction one can expect from a dental hygiene career.
Education Requirements for a Student Dental Hygienist
The state where hygienists work sets the education requirements hygienists must meet. However, dental hygienist schooling has some standard requirements. For example, all dental hygiene programs in the US must be accredited by CODA (Commission on Dental Accreditation). 
The various accredited dental hygiene programs offer different degrees, which depend on their program type. Per Concorde Career College, there are three types of programs:
Entry-Level: These programs are for the student dental hygienist with no experience. These programs could include associate degrees, baccalaureate, and post-baccalaureate degree programs.
Degree Completion: Following the completion of a certificate or associate degree program, these students can advance their education to a program to earn a bachelor's degree in dental hygiene or a similar field.
Graduate: After obtaining a bachelor's, dental hygienists can get their master's in dental hygiene or a similar field.  [1]
Check out the Dental Boards' comprehensive list to find out what your state board requires.
Hygienists also have state-mandated continuing education (CE) requirements in specific topics. While they vary depending on the state, topics will range from general education about dentistry, gum disease, and oral care to particular topics related to oral health, new research findings, and emerging science about preventative dental care. 
Please visit the national dental hygienists' association, ADHA (American Dental Hygienists Association), for additional resources.

What Does a Dental Hygienist Do?
Dental hygienists handle dental hygiene programs in the dental practice. So, what is dental hygiene? It's a lot of things — and more than cleaning teeth. 
Dental hygiene is preventing, treating, and managing oral disease. Oral disease can be cavities, tooth decay, or the first signs of inflammation in the gums, called gingivitis, which can mean the patient has red, swollen, or bleeding gums. The hygienist might also see signs of the advanced stage of gum disease, periodontitis, and irregularities that could indicate oral cancer lesions.
Dental hygienists are also oral disease prevention specialists. Hygienists counsel patients on how they can improve their home care to address what the hygienist sees happening in the mouth. They also remove plaque and calculus on a patient's teeth. In addition, the hygienist will do periodontal probing to assess the patient's gum health. 
Hygienists also manage oral disease. Sometimes they perform procedures like scaling and root planing to treat gum disease. Scaling removes plaque and tartar from patients' teeth below the gumline. Root planing involves smoothing the tooth's roots, which can help the gum reattach to the teeth. [2]
Dental hygienists might handle other tasks in the dental office that vary depending on the state where they work, which might include:
Getting patients' dental impressions, either digitally or with impression material
Administering sealants to prevent tooth decay
Providing fluoride treatments to strengthen enamel
Giving anesthesia as needed for restorative or other treatments
Removing sutures after dental procedures  [3]
The Difference Between a Dental Hygienist and a Dentist
Dentists and dental hygienists work closely in the dental practice but have different clinical roles. Dentists are physicians who diagnose oral disease and create treatment plans for patients. In addition, dentists restore teeth, straighten smiles, treat damaged nerves, and perform oral surgery. 
Hygienists do not diagnose, deliver restorative treatments to teeth, or handle straightening or surgery. However, they have a crucial role in oral healthcare, serving as the point person to improve the patient's oral health through prevention, treatment, and management of oral disease.
The Difference Between a Dental Hygienist and a Dental Assistant
Dental hygienists and dental assistants also work closely together but have different roles in the dental office. For example, dental hygienists are part of the clinical team providing oral healthcare, so they see patients and work with them autonomously. 
A dental assistant, on the other hand, assists the clinical team. Dental assistants also work with patients but in tandem with clinicians during treatments. 

What to Expect Regarding a Dental Hygienist Salary
There are a range of salary amounts for dental hygienists. Per the US Bureau of Labor and Statistics (BLS), hygienists will earn a median income of $77,810 or around $37 hourly in 2021. However, the BLS says that the lowest ten percent of dental hygienists in the US earned about $60,000, while the highest was around $108,200. [4]
Dental Post, the dental industry's largest online and mobile job board, published in their 2023 Dental Salary survey an average income of $73,745 with a median income of $72,000, based upon their respondents. [5]
Where Do Dental Hygienists Get Paid the Most?
How much you make as a dental hygienist also depends on where you live. Generally, dental hygienists in the US make the most in the bigger cities across the US. For example, dental hygienists make $94,208 in New York, NY. [6] However, dental hygienists in Birmingham, AL, make a little over $74,000. [7] The highest-paid dental hygienists live in the West Coast states and the eastern seaboard, with a range of $84,000 to $116,000. Colorado and New Mexico also fall within that highest range for salaries. [8]
Job Satisfaction of a Dental Hygienist
Is Being a Dental Hygienist Hard?
Dental hygienists typically experience consistent routines during their clinical days. A staff meeting often kicks off the day. Afterward, hygienists prepare their instruments for the day's appointments. Most hygienists see around eight patients a day and spend about an hour with each one. 
Is Being a Dental Hygienist Worth It?
Hygienists enjoy many perks. Also, dental hygienists can have flexible work schedules, with full- or part-time positions available. [9] Plus, they have a lot of autonomy during the day, which appeals to many dental hygienists. Many perceive their role in oral healthcare as a rewarding career. The time they spend with patients, more substantial than anyone else in the dental practice, allows them to build rapport with their patients.
With the industry-wide shortage of dental hygienists, there are many opportunities for dental hygienists today. The increased demand for their skills and training makes it easier for hygienists to find a dental practice that is a good fit. [10]
Hygienists are more valued than ever, providing more opportunities for growth after clinical practice. Per the American Dental Education Association (ADEA), many career paths exist for dental hygienists outside the operatory in education, research, administration, public health, and business. From a classroom instructor to a dental supplies sales job to a local or state dental public health officer, there are numerous career opportunities after or instead of clinical work for dental hygienists. [11]

The Benefits of Working as a PDS-supported Hygienist
At Pacific Dental Services, we view dental hygienists as essential oral healthcare providers. We offer a culture encouraging our clinicians to address oral and overall health. By providing support, education, and access to the latest proven technologies, PDS-supported hygienists can deliver advanced patient care.
At PDS, we value education. Supported hygienists can advance their professional career goals with ongoing training and development. We encourage all team members to develop their unique talents. In addition, we give our team members access to our tuition reimbursement program. We also provide complimentary continuing education courses through the PDS University™. 
We are proud to offer competitive compensation and an excellent benefits package that includes medical, dental, and vision benefits. We provide a 401k savings plan, and our teams enjoy paid holidays, vacations, and personal time. In addition, we have flexible schedules for our hygienists who need them. We are proud of our industry leadership in diversity, career growth, and award-winning community outreach programs. 
If you are a dental hygienist looking for a culture that values your contribution and provides opportunities for career advancement and mobility, view our dental hygienist jobs now at the link below. In addition, for senior dental hygiene students or unlicensed graduates, we offer the Hygienist-in-Training (HIT) pathway. HIT is a paid opportunity that allows participants to begin working in a dental practice, giving them a head start on building competence in a patient-centric environment.
Check out the Life at PDS video of a PDS-supported dental hygienist in Knoxville, TN.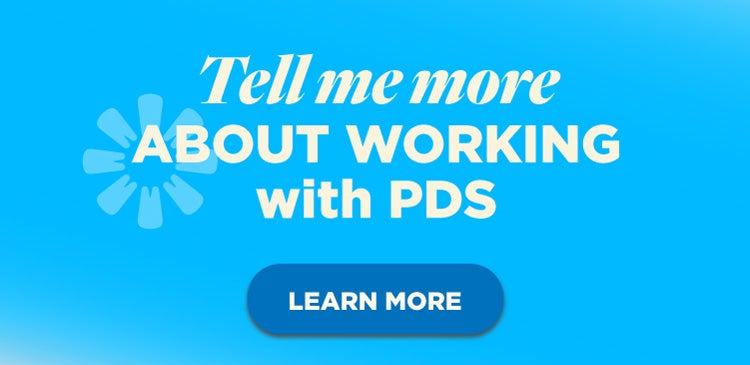 The information provided by Pacific Dental Services in this blog is intended to educate readers about oral health and related topics. However, it is not a substitute for professional advice or career guidance from a qualified dental professional or educator. It is important to seek the help of experts for any concerns related to oral health or career planning.